From the lush north of the country to the southern shores of the Red Sea, spanning over 650 kilometers on foot, the Jordan Trail presents a fantastic year-round challenge for outdoor enthusiasts. Those who embark on this long-distance hiking trail can immerse themselves deeply in the Kingdom of Jordan's unique experience. Furthermore, Jordan has a plethora of additional highlights for active vacationers, ranging from thrilling rock-climbing expeditions to adventures in the breathtaking Wadi Rum desert.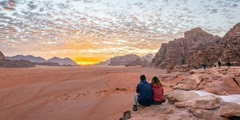 Gently rolling wooded hills, rugged wadis, dusty deserts, and the glistening waters of the Red Sea – the Jordan Trail traverses the entire diversity and beauty of the Kingdom. Stretching over 675 kilometers, it makes stops in 75 villages and cities, unveiling historical attractions like Umm Qais, Jerash, and the UNESCO World Heritage site of Petra. Deep oak forests in the north, the fertile Jordan Valley, and vast grasslands await curious outdoor enthusiasts, along with ancient olive groves, hot springs, and mystical caves. Those who complete the trail, divided into eight stages, can expect to spend a fulfilling 40 days on the journey – savoring every single minute of the adventure.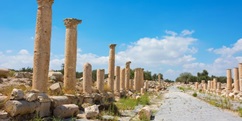 Following the Footsteps of Great History
Jordan was once the heart of the King's Highway, a trade route used by Moabites, Nabateans, and Romans that stretched from Egypt to Damascus and Aqaba. Now, sporty travelers from around the world embark on this journey year-round. Hikers are offered a wealth of experiences as they traverse a stunning natural landscape while enjoying Jordan's renowned hospitality and diverse cuisine. Along the way, they make acquaintances with locals and spend their nights with host families, immersing themselves in various layers of Jordanian culture. It's an intimate way to explore the many facets of this diverse Middle Eastern country.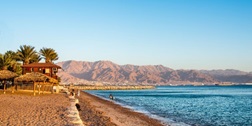 The trail begins in the lush north near Umm Qais, just a few kilometers from the Israeli border. The first stage covers approximately 80 kilometers in about four days, featuring highlights such as the ruins of the Roman Decapolis cities near Umm Qais and Pella, the ecological park in Wadi Ziglab, the ruins of a Byzantine monastery at Tell Mar Elias (the traditional birthplace of the Prophet Elijah), and a medieval site on the mountaintop fortress of Ajloun. After six more stages spanning hundreds of kilometers across the country, the journey concludes with the eighth and final section. This segment follows ancient shepherd trails through desert wadis and over granite mountains, covering about 110 kilometers from Wadi Rum to the coastal town of Aqaba, where the warm waters of the Red Sea await as a fitting reward for the adventurous trek.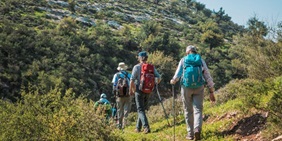 Of course, the Jordan Trail requires a certain level of physical fitness. To make the challenges in planning more manageable, the individual sections are classified as follows: "Easy" indicates minimal elevation changes and short distances, a "moderate" stage may involve steeper ascents, and "difficult" warns of narrow paths at high altitudes with some extended climbing sections. However, ropes or other specialized equipment are not required anywhere on the Jordan Trail; everything can be explored on foot. It goes without saying that suitable clothing and sturdy footwear should be worn. Additionally, it's essential to carry an ample supply of drinking water at all times, with a general rule of thumb in this region being five liters per day. Those camping in the wilderness while on the trail will need more for cooking and washing.
The "Leave No Trace" Principle – Respect for the Environment
Here, the "Leave No Trace" principle must be adhered to at all times to protect Jordan's delicate ecosystem. This means leaving no waste or litter during the long-distance hike. Instead of campfires (which deplete valuable organic materials from nature), a camping stove should be used for meal preparation. It's also important to respect local customs, such as ensuring clothing covers at least from the shoulders to the knees. Jordan's official language is Arabic, and many locals also speak some English. Learning a few Arabic greetings and thank-yous before the hike will be greatly appreciated – any attempt to speak the language on-site will be highly valued.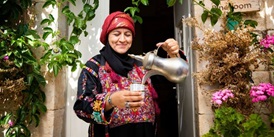 During your journey, you will encounter various local cultures. In the agriculturally influenced north, people, like everywhere in Jordan, are very hospitable, but they may be less accustomed to interacting with international guests. The town of Fuheis, located west of Amman, has a large Christian community with many church steeples, and there's even an excellent brewery. Further south, you'll come across traditional Bedouin camps, and it's essential for strangers (especially women) to approach them with respect. Finally, at the Red Sea in and around Aqaba, you'll experience a cosmopolitan atmosphere with restaurants, shops, and excellent hotels waiting for you. It's definitely worth booking the tour with one of the licensed tour operators, such as GAT Adventures, Treks, Experience Jordan Adventures, and Discover Jordan – this way, a smooth tour experience is guaranteed.
From Hiking to Canyoning – More Outdoor Adventures
Similar in length to the Jordan Trail hiking route is the Jordan Bike Trail, which was completed in 2018. This cycling path spans 730 kilometers across the country, following an ancient trade route from the lush north to the Red Sea. It takes you through mountains, canyons, valleys, past castles, the UNESCO World Heritage site Petra, and into the Wadi Rum desert. In this desert valley, you can embark on additional adventures, such as climbing tours in the towering rock formations reaching up to 1,750 meters or spectacular rides and flights in a hot air balloon or ultralight aircraft. Unforgettable experiences also await on horseback or camel, possibly even on longer journeys through the mountain valleys all the way to Aqaba on the Red Sea.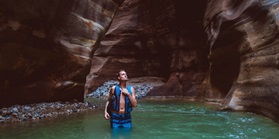 A unique experience awaits you with canyoning, where you'll climb through canyons featuring impressive waterfalls. In Wadi Mujib, for instance, a tour guide from the visitor center leads you to a spectacular 20-meter-high cascade. A path upstream then takes you to a refreshing swim in a natural pool. Moreover, the Mujib Biosphere Reserve offers an exhilarating zip line with two parallel cables – from the visitor center, two people can simultaneously zoom along the 100-meter-long course at an incline of approximately 9 meters to the Mujib Bridge, which is a great thrill. Those hiking the Wadi Dathneh Trail to Feynan also need a head for heights, as it leads through challenging paths in Wadi Dathneh to the town of Feynan.
Enhance Your Experience with the Jordan Pass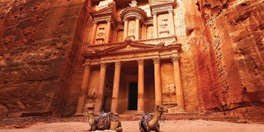 The Jordan Pass offers travelers convenient access to a wide array of highlights. This ultimate sightseeing package provides its holders with stress-free entry to over 40 of the kingdom's attractions at reduced rates. It also includes a digital brochure with 1001 traveler's insights available for free download. Moreover, when purchased before arrival (with a minimum stay of three nights), it waives the costs of the tourist visa. Another crucial document is the Jordan Trail Pass. This official hiking guide serves as proof of accomplishment and a highly valued keepsake for both experienced and amateur hikers. It can be presented to authorities as needed, simplifying the execution of the trek.
Discover the top 15 must-see attractions in Jordan by reading this article. From historical sites to natural wonders, this guide has got you covered.